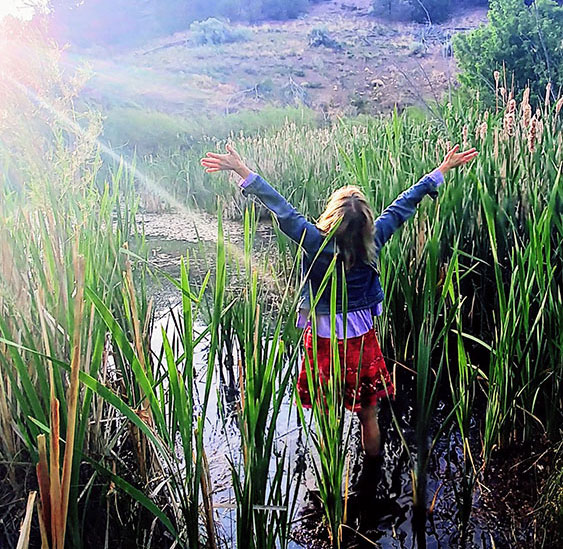 Let's open portals of play, intuition, creativity and wild wonder. Engage with your childlike intuitive essence, as we explore the wisdom & beauty of nature and the divine Presence in all things.
First we gather in Circle, an ancient form of connection, as I lead you in a short grounding meditation, followed by a ceremony of thanks for gracious Gaia and this Present Now Moment. We share why we have come and our intentions for the day as we place our sacred objects on the central altar. I offer a few methods of "dropping in" and connecting with the subtle energies that preside in nature like elementals, fairie, sylphs, undines and more. We are reminded to listen deeply, to honor and respect all.
Like blissful children, we begin our saunter. What arrives is different for each person. You may find yourself playing in a small grove of flowers, climbing a tree, embracing Gaia on your tummy, singing a tone that you remember from long ago, making mud pies by the river's edge, praying, drumming with two sticks. The possibilities are infinite as you play and allow Presence to engage with you.
From this place of inspiration, we return to our Circle to write, to draw, to engage authentically and creatively with what has stirred in you. Bring your journal, pens, pencils, art paper. And always, I am available for any assistance needed.
At completion, we share within the sacred container of Circle. You are encouraged to contribute, and also may choose to share in silence.
Soul Art Sessions are available for individuals or small groups up to 4. Sessions are 2.5 hours long, $222 per person. I am currently in the greater Bellingham area with access to many sacred locations.
For many years, I facilitated intuitive art & writing experiences in nature, both privately & in groups, in Maine, New Mexico & Ireland. I look forward to our upcoming adventure.
Please contact Oonagh here to begin your joyful journey.