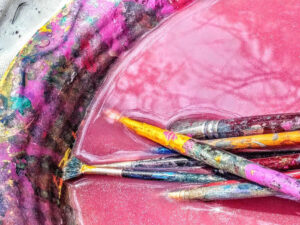 Open portals of play, intuition and wild wonder as you make art from your authentic soul self, your essence, and the wisdom & beauty of nature. Touch in and dance more closely with your inner artist, your intuitive, mystical self.
With Oonagh as your loving guide, you shall engage with a myriad of mediums including paint, paper, pastel, pencil, dirt, feather, bone, rock, roots & much more. Whether for one hour or three, your art journey will be  custom to what is present and alive for you.
Oonagh has been offering intuitive art sessions for many years in Maine, New Mexico and Ireland.
Please contact Oonagh here for more information.